The easiest way to clean up those Scrap Cars in your yard Today. Call us today to book a pick-up time for Junk Car Removal. 604-808-1646
Junk-Car-Removal

incredibly

especially

extremely

is simple and effective.

Let us take away those unsightly junk cars from your yard.
Junk Car Removal
Not only can you earn some money, but you will be left with the rewarding feeling of helping the environment, beautifying your property and making your neighbours happy. Not to mention the warm, fuzzy feeling you will get when it is all done! It's so easy...
We pay cash for your scrap vans, old cars, broken trucks. Get paid for that old junk lying around. Towing is free. We can pick up anywhere in the Lower Mainland.Free car towing in Lower Mainland BC Vancouver, Abbotsford, Aldergrove, Langley, Mission, Maple Ridge, Pitt Meadows, Richmond, Delta, White Rock, Tsawwassen, Surrey, North Delta. We can tow your vehicle, car, motorhome or trailer away for you free of charge. We provide Scrap Car Removal Services.
Why Scrap Car Removal - Junk Car Removal
Friendly Service
Our professional drivers will treat you with respect.
Fast Service
Junk Car pickups usually the same day.
Complete Scrap Vehicle Service - Scrap Car Removal
5th Wheel Removal Service
Farm Equipment disposal service
Bus recylcing
Towing
Semi-Tractor recycling
Scrap Car Removal
Junk Car Removal
Phone Booking
Book for junk car pickup with live operator.
Local Company
We live and work here. Junk Car Removal is not a faceless corporation, we're regular people just like you. Support your local business.
Environmentally Friendly
While we won't take your old rusty bedframes, we will take your old rusty junk cars.
It doesn't matter what condition your old car is in. If you don't want it seeping toxic chemicals, oils and who knows what, then just contact us today to book a free extraction!
Cash for Scrap Cars
Scrap car removal in Surrey, BC.
Get more money for your old vans and trucks
Surrey Auto recyclers
Free Junk car towing Surrey, BC
Money Paid for scrap cars
Wanted: old Damaged Vehicles
Junk Car Removal
Cash for cars Surrey
Junk car removal surrey, BC.
Surrey Auto recycling
We remove Junk Cars from: Lower Mainland BC - Vancouver, Abbotsford, Aldergrove, Langley, Mission, Maple Ridge, Pitt Meadows, Richmond, Delta
With Junk Car Removal you have CHOICES...
Have a car that is still worth something? We might be able to buy it from you! Even if it is not running.
Contact Us Today!
Do you have a car that you wish to donate to charity and can get a tax receipt for? See our other website: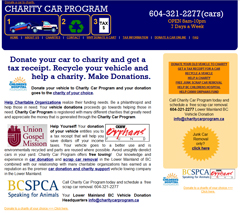 www.charitcarprogram.ca
Contact us
to haul that junk car away today! Recycling is a good way to feel GOOD.
---
We're not the only ones

excited

happy

about our Junk, Scrap Car Removal Program...
1,478 customers in the Lower Mainland Vancouver and counting...